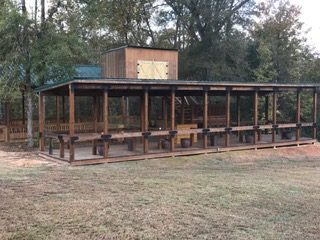 Dream Lake Clays were open and available for customer use in spring of 2017. In addition to being available for private use, our Alabama hunting lodge will also be hosting shooting events. Built with avid shooters and our customers in mind, the covered five stand is a first-class facility featuring Lincoln throwers. The five stand features clays thrown to emulate quail, dove, rabbit, and teal and also has a wobble trap in a tower built above the five stand. Our versatile hunting lodge in Alabama planned our clay range to meet the needs of all levels of shooters. Sporting clays at its finest!
In addition to being known as one of the best deer hunting lodges in Alabama, Dream Lake Clays offers private shoots for corporate, civic and church groups. We also built a 700 Square Foot pavilion to enhance our hosting abilities. Lunch can also be arranged for any booking. Shooting skeet is a great way to spend quality time with friends, family, business associates and customers. It offers an excellent opportunity to team build with clients and employees.
Please call 205-652-4545 or email at Kfourassociates@bellsouth.net for pricing and scheduling.
Team Building Event
Half Day Fishing, Lunch and 3 rounds of skeet–$180.00 per person.–6 Person Minimum
Available Monday Tuesday and Wednesday when schedule allows. Lodging is available also with this package.
Shotguns are available for rent.