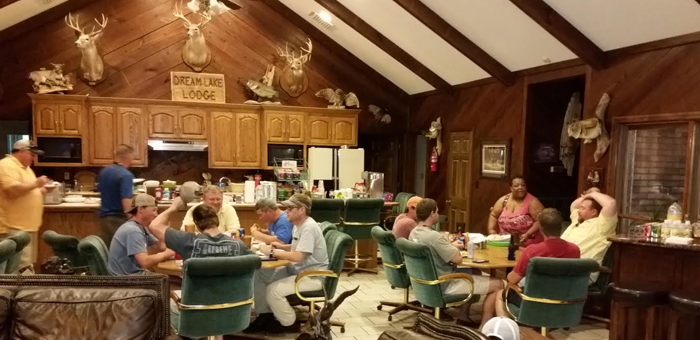 Our lodge offers all the comforts of home, while making you feel like it is an escape from your everyday grind.  "The Lodge" is built on a picturesque point of Dream Lake II. There are five bedrooms with two Queen beds in each room, private bath, and Direct TV.  One room has  a King and Queen bed and is set up special for  handicap access.  Our boats and docks are handicap accessible as well.
Our bunk-room upstairs has two full baths with six sets of bunk-beds. Four with Queen beds on the bottom and Super Twin up top. And two with Super Twin top and bottom.
We can accommodate up to 22 people or more with special arrangements.
Our Dining Room area has very plush comfortable chairs for you to relax and enjoy your Southern feast prepared Country Style. Our Den has a new 60″ HD TV, sofas, and recliners to relax after a day of fishing or hunting to fellowship with your family, friends or guests.